Real-time exploration of your portfolio
Imagine being able to drill deeply into your portfolio in real-time to understand the key risk drivers and composition. With Analyze Re technology it is now possible to provide clear insight to all members of the decision making chain without the wait.
Break down your portfolio on a region or peril basis, by business unit or geography, by broker or by underwriting team. Look at OEP or AEP with the flick of a switch, then slice the entire portfolio by any dimension to really understand the detail behind your data. We call this risk engineering.
Realise the full potential of your data
At Analyze Re we understand that the more insight you can get from your data, the better the quality of your decisions.
Analyze Re provides a configurable multi-model, multi-peril monte-carlo simulation framework, handling seasonality and secondary uncertainty as needed.
Because we are a fully data driven platform, you have full control of the analysis, eliminating the black box.
Perform ad-hoc comparisons
We make it a breeze to evaluate different risk perspectives in real-time, providing powerful new capabilities to your underwriting team at the time of pricing.
Risk Profile of a cat XOL treaty with one reinstatement
See the impact of adding reinstatements or compare different types of cover on a stand-alone or marginal basis to make better risk adjusted decisions.
Test-drive market change scenarios. Evaluate small or large changes to your portfolios in real time.
Review the impact of these changes by comparing back to the original to create powerful validation of your theories.
Speed and Scale
Analyze Re technology has been precision engineered with performance and scalability as a priority. What's more, it is built to integrate into your existing technology platform so you don't need to change your current processes.
Coming from the industry, we know that year over year, the volume of data required to analyze portfolios seems to grow exponentially. We have built our technology with this in mind, meaning that even as your portfolio grows, Analyze Re technology can scale with you so that you will never notice a slowdown in performance.
Future Proof Analytics
The insurance and reinsurance industry is currently going through dramatic change and is no longer in a high margin world. This calls for a more dynamic and interactive approach to managing risk, much more akin to the way the capital markets have innovated in the past.
During the 1990's and 2000's the capital markets continually innovated on its use of technology in the field of analytics for balancing complex portfolios and squeezing out as much profit as possible. The rewards were high for those in the know.
Coming from this background, Analyze Re, continues to innovate new capability which you can choose to tap into such as our machine learning algorithms which can help you to churn through huge volumes of big-data to find hidden profits.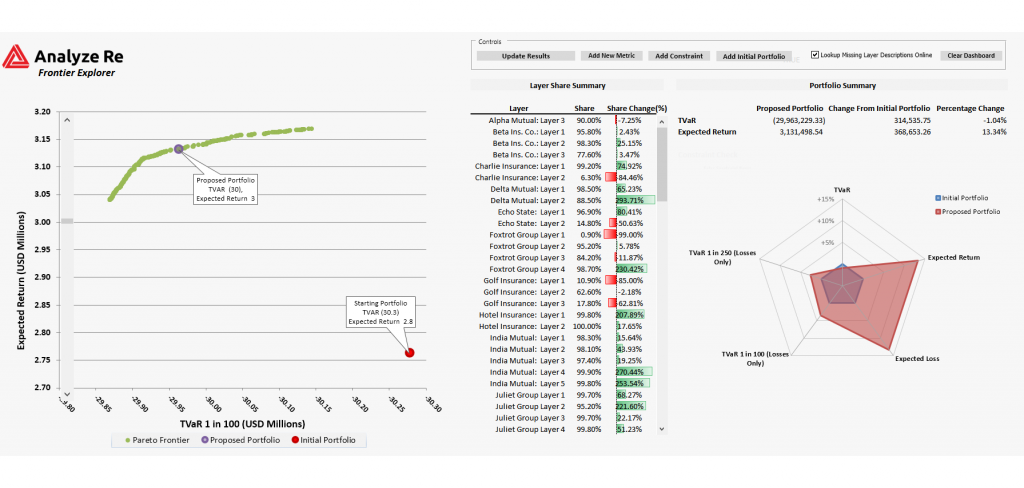 We built Analyze Re for the future, to provide technology to power new approaches for the industry. To help companies to keep ahead of the curve and formulate more sophisticated plans of attack, to continue to adapt them on the fly and to emerge victorious.
Improve Your Returns
 Contact us to find out how the world's fastest reinsurance analytics platform can help you leverage the data behind your portfolio.
Analyze Re does not sell, trade or otherwise transfer your personal information to third parties. Read our privacy policy.